Pre-K Registration Announced
On Tuesday, January 19, 2021 Marshall County Schools will begin 2021-2022 Pre-K registration for children who turn 4 years old by July 1, 2021.
If you wish to enroll your child in Pre-K, please call the school in your area, on or after January 19, to make an appointment and pick-up a registration packet or request an application packet be mailed to you. The application is also available at the link below.
For Pre-K sites in the Moundsville area, including Northern Panhandle Head Start "Stepping Stones," please call McNinch Primary to register. If you live in the Limestone, Sand Hill or Sherrard area call Hilltop Elementary to register. For PLAYS Child Care Center, please call Washington Lands Elementary to register. For all other locations, call the numbers listed below.
Please bring your child, along with the completed packet, to your screening location as scheduled. All students must have a state issued birth certificate and current immunization record.
If Covid-19 restrictions prohibit in-person screening of students, we will extend our schedule to allow collection of packets and meetings with parents, possibly to an additional day.
Placements will be announced periodically as registrations are completed.
WV Pre-K Programs are free for any child who turns 4 prior to July 1, 2021.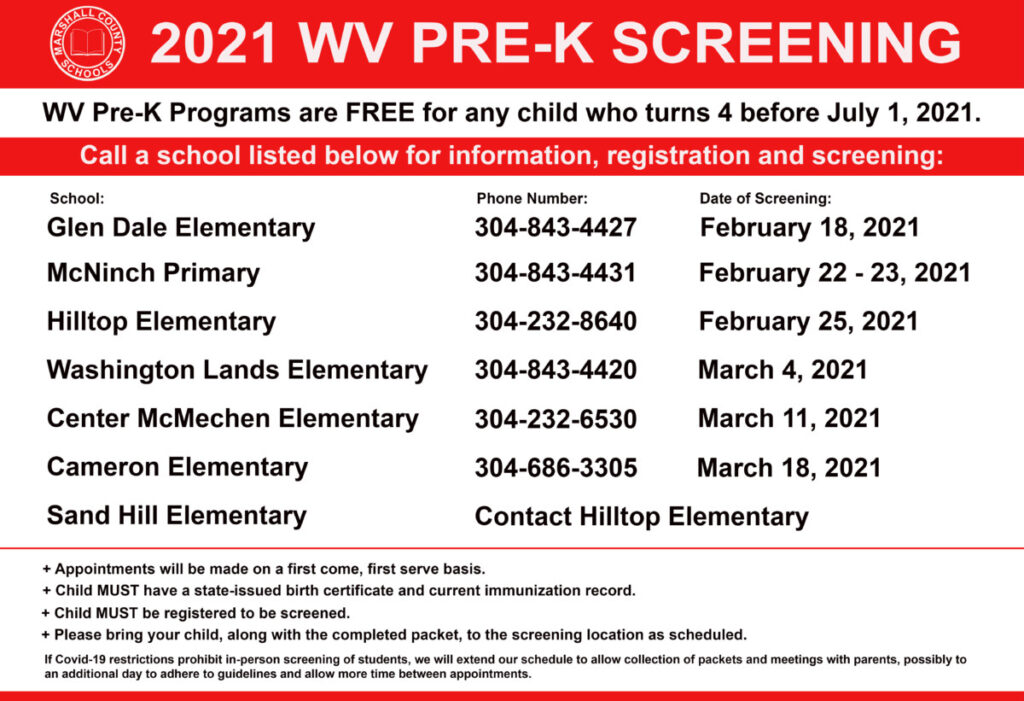 More information can be found at the link below.